Every person on our team is friendly and caring, from the sweet voice who answers the phone to the bubbly hygienist who cleans your teeth, to the compassionate dental assistant who holds your hand during treatment. We put the "care" in dental care!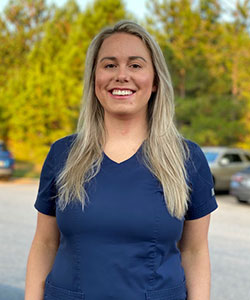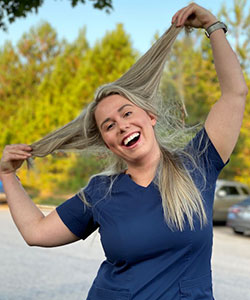 Amber
Dental Hygienist
I've been practicing dental hygiene since 2010, and I joined Wakefield Dental Care in 2020. I love building a bond with my patients and educating them about their oral health, and how it can relate to systemic diseases.
My husband AJ and I got married in 2008, and we have three furbabies: Lukas, an English Mastiff; Zoey, a Blue Heeler; and Little Girl, our cat.
Outside of work, I enjoy cooking, riding horses, house projects. I love spending time at Lake Gaston with my mom, and I love hiking and backpacking trips in the mountains with my husband. The mountains are my happy place!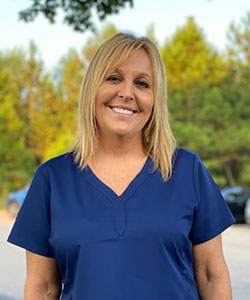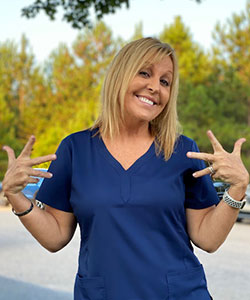 Deedy
Dental Hygienist
I have been in dentistry for over 20 years, starting out as a dental assistant in Ohio, where I am from originally. After moving to NC, I met my husband. Together, we have 3 awesome sons. When my youngest started kindergarten, I went back to school for dental hygiene, and I have enjoyed every minute.
In my free time, I enjoy anything that involves being outside and being active.
I feel so blessed to be a part of the Wakefield Dental Care team, and I look forward to meeting you!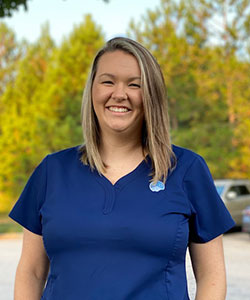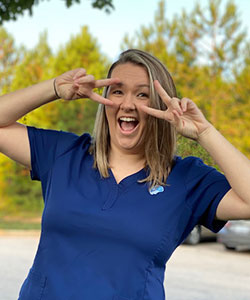 Kori
Patient Care Coordinator
My favorite part of working at Wakefield Dental Care is getting to know each of our patients and catching up with them at their appointments. It's fun to hear what's going on in their lives! I feel lucky, because we're a big happy family at our office, caring about each other and every one of our patients!
I am the smiling face who greets patients at our front desk. I am responsible for welcoming and checking people in, checking them out when they're finished, maintaining the schedule, and verifying appointments. I also review treatment plans and correspond with other offices on behalf of our patients.
My wonderful husband Raschad and I have two beautiful children, Ashton and Lorelei, and one fur baby, Poppi. When I'm not riding bikes with my son, or playing dolls with my daughter, I enjoy camping, boating, cheering on the South Carolina Gamecocks, and volunteering with our student ministry at church. Oh, and I love ALL things Disney!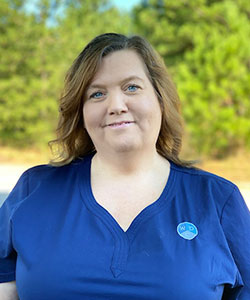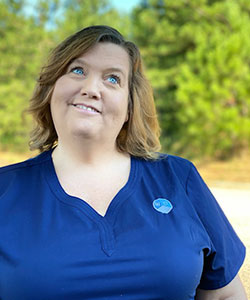 Laurie
Insurance Coordinator
I enjoy meeting our new patients along with catching up with those who are established with our office. I think Wakefield Dental Care has the best team all around: we always have a good time at work, keeping each other and our patient family smiling and laughing!
I verify insurance benefits for our patients and follow up on their claims, ensuring they are able to maximize their benefits. I also greet patients and check them in and out.
My husband and I have been married for over 21 years and have two kids, both of whom are in college: one in the mountains and one at the beach. I keep busy with social activities, my favorite being a wine tasting club with friends. I enjoy watching reality TV, mani/pedi's, and hanging out with my family and friends.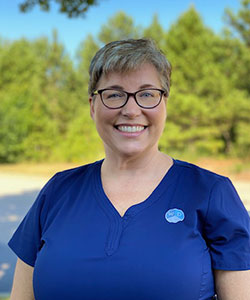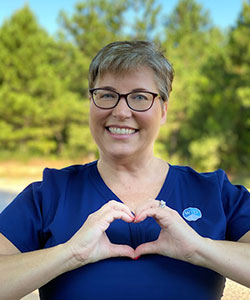 Lisa
Office Manager
I enjoy interacting with our patient family, whether that's on the phone, at the front desk, or even in the clinical area. Sometimes I'll just pop into a treatment room to say "Hi" and catch up with someone I haven't seen for a while!
I work with a great group of people: Dr. Magno is not only my husband, but a really wonderful, caring person – toward his patients and his team! Everyone on our team genuinely likes each other, so our office has a family vibe to it and I'm so grateful for each family member here – our team and our patients!
I handle a little bit of everything at Wakefield Dental Care: administration, front desk, and even some clinical duties as needed. I was a dental assistant for many years, and that clinical experience allows me to help wherever I am needed in the office.
Dr. Magno and I got married in 2009. We have two beautiful children, Bryson and Sydney, who keep me constantly on-the-go! We also have three furbabies who are all rescues. In my free time, I enjoy reading, shopping, pedicures, and singing in my church choir.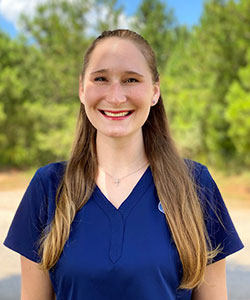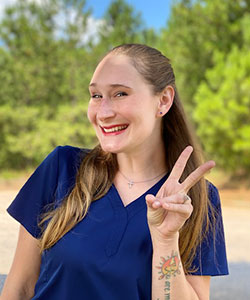 Nikki
Dental Assistant II
It is always a pleasure to help patients, making sure they are comfortable, informed, and at ease during procedures. I like being able to relieve worry or pain and have people leave the office with bright and confident smiles! Team work makes the dream work and this office gives it 100%! We all support each other like family and are dedicated to our patient family!
I handle a range of clinical duties, including assisting Dr. Magno with fillings, crowns, bridges, implant restoration, and impressions. I also provide preventive care, including X-rays, coronal polishing, sealants, and I assist Dr. Magno with Invisalign® treatment. Additionally, I take care of sterilization, inventory, and I make sure we are up to date with our OSHA requirements.
I have been blessed by God himself with an incredible man in my life, along with our crazy seven-year old boy. They both keep me on my toes and provide an abundance of love, support, and the occasional headache. ;) We enjoy exploring and fishing in the woods, caring for our furbabies, plus whatever strays need to be fed, too.