A Passion for Health, A Love for People and Helping
Being a dentist allows me to connect to a wide range of people on so many levels. The mouth is, literally, a gateway to the body; helping patients establish and maintain their oral health is a step in helping them maintain their overall health.
This fact drives me to continue expanding my knowledge and skills, which enables me to deliver a higher level of care – which is what each and every patient deserves!
As a dentist, I'm excited I get to do something that helps people! Whether restoring function, addressing sleep apnea, relieving pain, or boosting someone's smile, I know what I am doing can be life-changing for that person. That is amazing and inspires me to constantly seek more ways to help those in my care.
Our Office
One of the most incredible aspects of my practice is how our patients become part of the Wakefield Dental Care family. My team and I make a point of listening, of engaging, and of investing ourselves in getting to know each person who comes to us for care. We are people-oriented and appreciate the opportunity to build lasting friendships with our patient family.
From the first phone call to the completion of an appointment, everyone in my office is committed to the person's comfort and wellbeing. We make it a priority to help individuals understand every phase of their care, clearly explaining what will happen and why, which leads to a comfortable and stress-free visit!
Education and Experience
My interest in medicine and science goes all the way back to my early childhood: I remember doing "check-ups" on my stuffed animals! As I grew older, that interest never waned as I constantly gravitated towards health and science classes.
Ultimately, spending a couple of summers volunteering at my family dentist's office was what convinced me to pursue dentistry as a career: I saw, firsthand, the relationships my dentist had with his patients and the friendliness with which he related to them, connecting with many people on a daily basis. That is what I wanted in a career!
I attended California Polytechnic State University (Cal Poly) at San Luis Obispo, where I completed a Bachelor of Science in Biochemistry. I was then accepted at the University of North Carolina at Chapel Hill, where I was awarded my Doctorate of Dental Surgery in 1999.
Following dental school, I worked as an associate in a group practice before opening Wakefield Dental Care in 2002.
Ongoing Learning and Professional Affiliations
Francis Bacon wrote that "Knowledge is power." GI Joe took it further and said, "Knowing is half the battle."
Dentistry is constantly improving, with research leading to new methodologies, materials, and technologies. I pursue continuing education to stay at the forefront of advances in techniques and treatment options. This ensures my team and I are giving our patients the best and most up-to-date care possible.
I am a member of the American Dental Association, North Carolina Dental Society, and Kappa Sigma Fraternity. I am also active in the Seattle Study Club and Spear Study Club. These organizations allow me to learn from the leaders in oral healthcare, and from my peers. I'm a frequent attendee at local and national meetings, and take many courses throughout the year.
Beyond Dentistry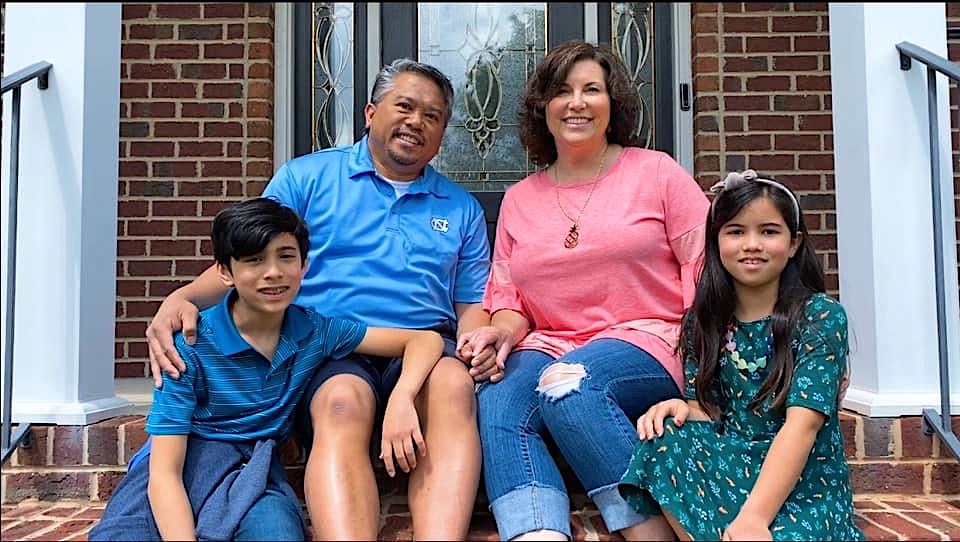 Born in Manila, Philippines, I moved to Fresno, California, when I was eight. In 1995, I arrived in Raleigh for dental school and loved it so much that I stayed!
My wife Lisa and I married in 2009. We have two smart, energetic children: Bryson and Sydney. They keep us REALLY busy! We also have two cats, Ellie and Cookie, and one dog, Tallulah. And if our daughter has her way, our list of pets will continue to grow! My children and I are active in Y-Guides, and all of our family is very involved with our church.
Time away from the office is spent with my family and friends. I am an avid movie-watcher, comic book collector, and I love musical theater. I enjoy golfing, too, and teaching Bryson and Sydney about superheroes and Star Wars.
I'm also pretty wild about sports, especially Carolina football and basketball: GO HEELS! I'm a long-time Pittsburgh sports fan – Steelers, Pirates, and Penguins – too. And even though I'm a Penguins fan, I love going to Carolina Hurricanes games and cheering our home team (when they aren't playing the Penguins!).